Graphic design is important when developing your brand and can greatly impact your brand messaging. Graphic design helps mold how your brand is perceived and is a crucial element to your overall business strategy. But you may be asking, "What if I do not know anything about graphic design?"
Having a lack of graphic design skills can be challenging and this is a common position that many business owners find themselves in. Small to medium sized business owners have to wear many different hats to run their business and they are often not great at any particular task but are left to manage everything at a basic level.
If you are looking for graphic design help, you can always to turn to freelance graphic designers and there are many websites that can help develop your logo, brand and overall visual messaging.
Here is a quick list of graphic design sites that can help:
1) Fiverr
2) 99 Designs
3) Deluxe
4) 48 Hour Logo
Sometimes though, you may want to make a basic sign for your business or you have a social media campaign that you are running and you want to make simple graphics for the promotion.
Fortunately, there are other free options so that you do not have to rely on free lancers or buy expensive software like photoshop. Welcome to Canva.
Free Online Graphic Design Software
Canva is a free graphic design software that allows anyone to make graphics. The website was founded in 2012 and features a drag and drop interface. The site gives you access to a wide variety of colors, fonts and graphics. Additionally, you can easily upload graphics and integrate them into your designs.
Furthermore, Canva can act as an online storage of your organizations graphic designs and can easily be shared with all your employees or other people that you designate. This can be especially helpful, if you have a remote team of people and allows for easy collaboration. The free version, allows 10 different logins per account.
How To Create A Canva Account?
If you want to check out Canva, you can easily create a free account. Start by going to the site canva.com and create a free account. Click on sign-up and follow the prompts. After you have signed in and created an account, then you will have access to your dashboard and can start to make a design.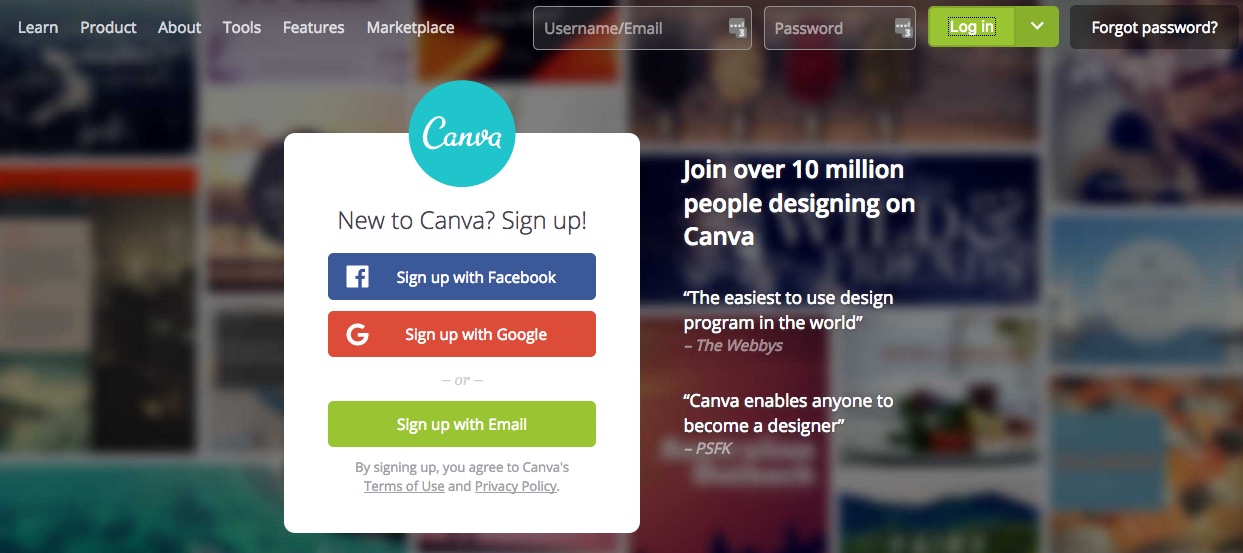 How Much Does It Cost?
Creating a Canva account is free but if you decide that you want some additional features than you can upgrade to a Canva for work account. I would recommend that you start with a basic account and try and make some designs. Get comfortable with the soft and get competent at creating designs. After you play around with the software, you will begin to learn what the limitations are and if upgrading your account gives you or your business any tangible benefits.
If you choose to upgrade your account then Canva has different pricing tiers which they currently offer, most common would be $12.95 per user per month.
Canva For Work Key Benefits
If you choose to upgrade to this account, then you have all the normal features plus these additional features:
Share photo folders with your team
Create team templates
Team stream to share designs
Access controls for teams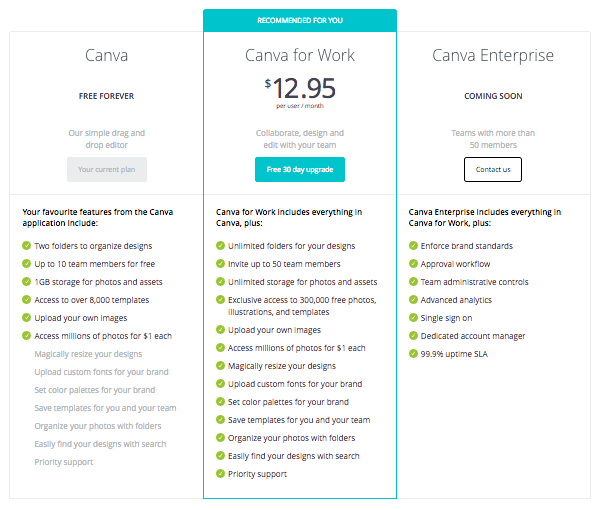 Summed Up
If you have made it this far, then I think you should go ahead and create an account. Canva is free and a great tool to have in your tool kit. Worst case scenario is that you create an account and start using the software but cannot get used to the interface. I can reassure you that you will not be disappointed by this software as it is really helpful and a great graphic design tool.