This post will explore different booking scheduling software solutions that allow your customers or prospects to book appointments with you. By leveraging this software tools and automating this process, you will gain back valuable time which can be used on focusing your energy on more important tasks within your business or organization.
Specifically, we will be exploring and comparing these appointment scheduling softwares:
Why Should I use booking software?
Hopefully, the benefits of appointment setting software in your business should be obvious. But, if you are not convinced, here are some immediate benefits that you should consider. Every week, you should be spending time reflecting on your business processes and looking for areas that you can make improvements.
Any changes that you can make to your business, processes, and how your business operates that reduces time from you or your employees should be constantly monitored. Every chance that you have to reduce financial and time resources from your business will allow you and your team to focus on higher level tasks, your customers, and revenue generating activities.
Schedules for you and your clients are always changing and you need a system to be able to manage that. If you are keeping appointment schedules manually, then whenever there is a change, you or your administrative assistant would have to follow-up with clients to communicate these changes.
If a client cannot make an appointment, then they have to either call or email you about this change or they will be a "no-show." Alternatively, imagine that whenever you have an appointment, there are automated emails or text messages that go out to your client reminding them  about the appointment.
Or what if a prospect could visit a webpage and select a date and time that displays your availability and does not double book with other appointments that you have scheduled. Those are just a few of the benefits that should make you consider implementing appointment booking software into your business.
Should I Have A Digital Calendar?
Monitoring your schedule and constantly having to make changes can be challenging, especially if you your calendar is manual.
Therefore, before looking at appointment scheduling software, you should first make sure you have a digital calendar. There are several software platforms that allow you to manage a digital calendar but we suggest using Gmail for Business also known as G Suite.
The reason that we suggest using Google's calendar platform is because it integrates with your gmail account and can integrate with a variety of appointment software platforms. Additionally, you can use Icloud or Outlook, which offer the same integration features.
What Should I Look For In An Appointment Software Solution?
There are several factors that you should consider when looking at different appointment setting software solutions other then the obvious factor of price. Some other features and functionality to consider is whether the software integrates with a digital calendar.
Does it allow a customer to select from a an available choice of dates and times? Can the software connect with your schedule so that a customer does not set an appointment that overlaps with an existing appointment or when you are not available. Does it need to integrate with a webinar software so that you can meet clients virtually? Do you need to collect payment before scheduling a booking? These are some questions that you should ponder while exploring different platforms.
Calendly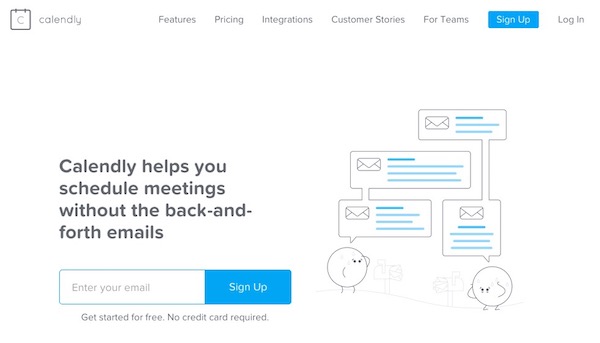 Calendly is a great software solution that has many great features and integrates with your Google calendar as well as Office 365, Outlook, and ICloud. This allows you to set your availability and not double book yourself. It can also be embeded within an existing website so that a website visitor does not have to leave your website and go to a different site in order to complete scheduling an appointment.
Calendly Pricing
Calendly has a 3 step pricing tier which starts with a free option to allow you to sign-up with no obligation and explore the software. As you move up to a paid tier then there are additional features such as removing Calendly branding, customizable email notifications, integrations with other software tools, and much more. The monthly pricing is also cheaper per month if you pay on an annual basis rather then monthly.
Integrations
Calendly also boasts helpful integrations with other software products to help streamline your business. As mentioned earlier, it connects with your calendar through G Suite, Office 365, and ICloud. In addition, you can integrate with Infusionsoft, Mailchimp, Saleforce, Zapier, and Slack.
Other helpful features include the ability to embed on within your website, accept payments through Paypal and Stripe, plus integrate automatic meetings with Gotomeeting webinar software.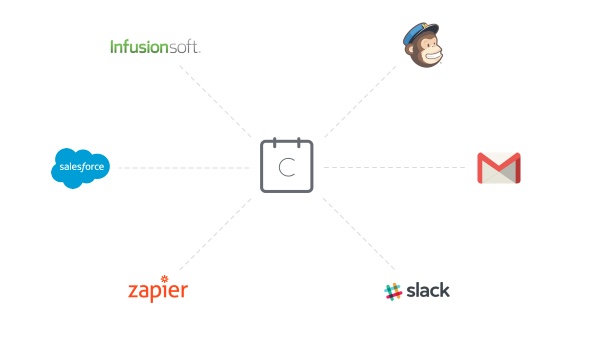 Youcanbookme

Youcanbookme appointment software is another great appointment booking solution. It features many of the same options as Calendly including syncing with your calendar, weekly availability customization, time-zone detection so your availability is shown in the site visitors time-zone, email confirmations, email reminders, and more.
Pricing
They offer affordable pricing starting at $10/month per connected calendar, basically per person on your team. Plus, you can get a monthly discount if you pay up to 1 or 2 years in advance. They also offer a free version that allows you to get familiar with their software but has limited features compared to their paid plan.
Integrations
Youcanbookme integrates with your calendar, specifically Google, Icloud, and Microsoft calendar integration is currently in beta. In addition, it integrates with Zapier and Stripe for payment collection.
Meetingbird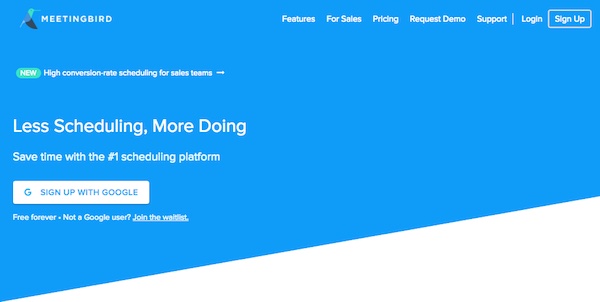 Meetingbird is a appointment software solution that is a new player to the marketplace. It is very similar to Calendly and Youcanbookme but also has additional features. Some distinct features to its platform is its attractive look and feel of the software, integration with Zoom webinar software, helpful chrome scheduling plugin and appointment polling scheduling tool.
Pricing
Meetingbird offers a clear pricing structure which is either free or $9/month per person on your team. Obviously, the paid version offers additional features which makes it more attractive such as a customizable logo, email reminders, and more. If you opt for this platform, then go with the paid version as it is well worth the investment.
Integrations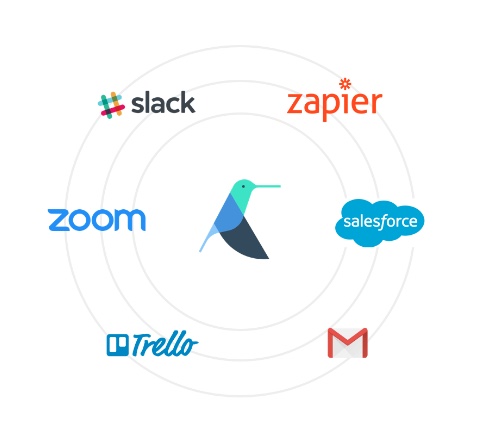 As mentioned earlier, Meetingbird has some great integrations with existing software. It integrates with several calendar platforms, Zoom webinar software, Zapier and has several other integrations that are currently in development.
Acuity Scheduling
Another appointment scheduling platform is Acuity Scheduling. It features many of the same features as the other scheduling platforms but sets itself apart by offering many different software integration options with complimentary software solutions. The software allows you to create custom pages that you can embed into your website or be stand alone pages.
Pricing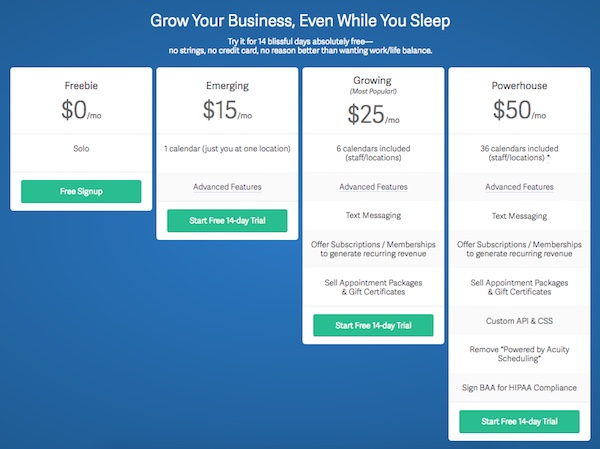 Acuity Scheduling offers 4 pricing tiers from free to $50/month. Opposed to the other scheduling software that is reviewed, they do not charge per user or connected calendar. You may take advantage of this pricing structure if you have a team larger then yourself that you want to implement the scheduling software for.
Integrations

The integration abilities of Acuity Software and other appointment software products is a defining difference of this platform. Once you create an account, you can view all of the software solutions that you can integrate with Acuity. There are literally dozens of software providers to choose from which, depending on your business, may not be necessary but is nice if you are looking to integrate with another platform.
Schedule Once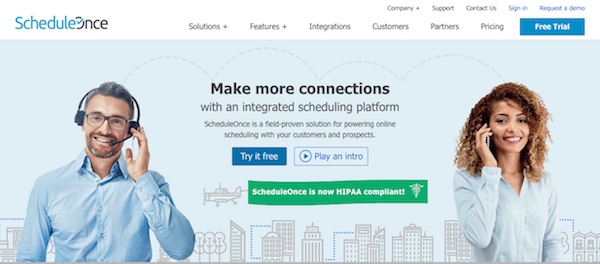 Schedule Once is another appointment scheduling platform that is also similar to the other platforms that we have explored in this post. You can create your own booking page with a customizable logo and description. You can also add different appointment types if you offer several services.
Similarly, if offers many of the same features as the other platforms such as calendar syncing, email notifications, calendar time-zone changes, and integrations with other popular platforms. You should definitely consider whether Schedule Once is a booking appointment software solution that meets your needs.
Pricing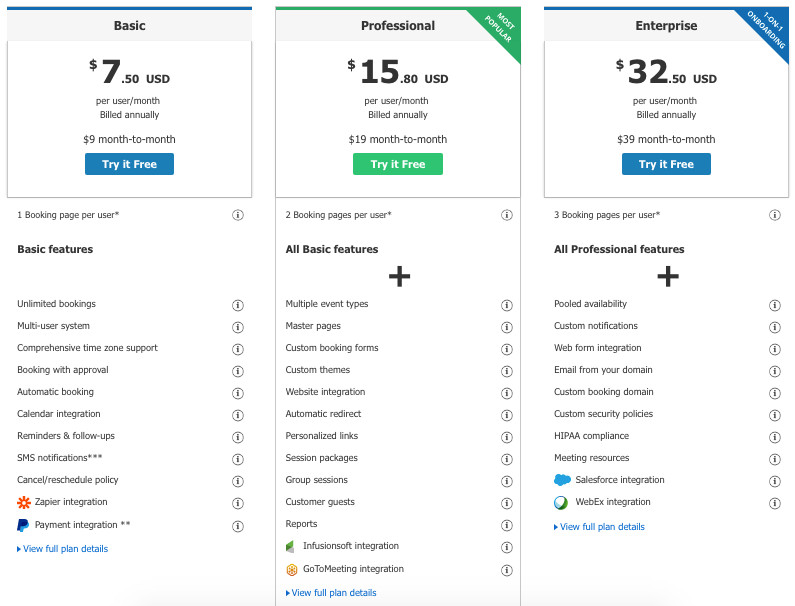 Schedule Once has a similar pricing scheme to the other platforms in that you can pay monthly or yearly but one difference is that they offer more software integration options as you pay more. It is a bit difficult to decipher all the features that you get with each payment tier and whether one tier is worth paying more for.
Integrations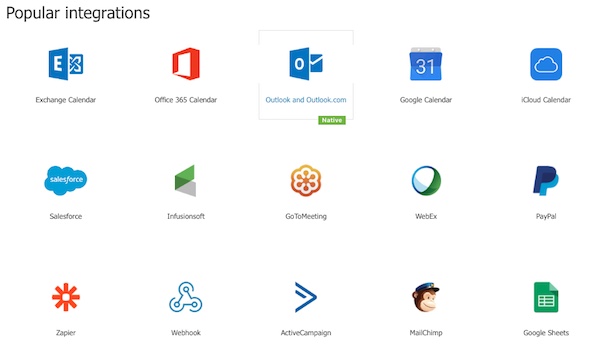 Schedule Once features some great software integrations that some of the other platforms do not offer such as Salesforce, Infusionsoft, and Mailchimp. It is important to understand what the different software integrations offer and whether or not they are important to have for your business.
10to8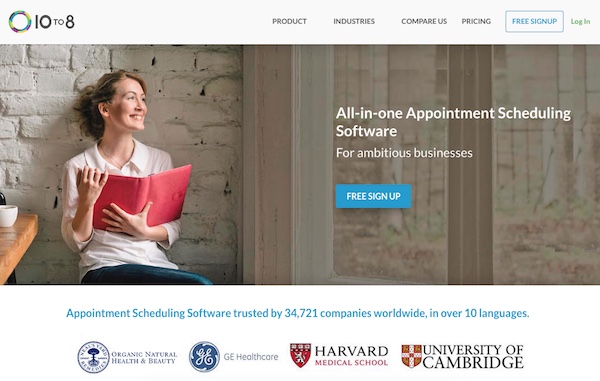 www.10to8.com is the last appointment scheduling software that we will look at in this article. Along with its competitors, it has many of the same features such as calendar syncing, automated appointment reminders via email and text, allows for branding, and can be configured to collect payment prior to appointment confirmation.
Pricing
The pricing structure has 5 different tiers which is priced differently depending on whether you pay yearly or monthly. The different tiers are based on the number of appointments that your business/organization makes per month. Therefore, as the number of appointments increases then you need to move up to another payment tier.
The other factor that may impact which tier your business needs is the number of employees logins that your business requires. For example, in the free and 2nd tier, it includes 2 staff logins whereas, the 3rd tier includes 3, and the tier above that includes 6.
It is nice that it has a free option to explore the features and see if it is something that will work for your organization.
Integrations
In terms of integrations, there are many different software solutions that you can use in tandem with 10to8. It claims that there are over 500 integration softwares available, some of which include, Zapier, Google Docs, Mailchimp, and Microsoft Flow and Paypal.
Summary
This concludes the exploration of the different appointment scheduling software solutions that are available. Ultimately, the choice of which solution you choose is up to you. Some key features that you need to consider before choosing a particular platform is whether the platform integrates with your digital calendar (Gmail, Outlook, ICloud, etc.)
Furthermore, you need to examine if it integrates with 3rd party solutions that your organization already uses or is planning to use such as payment integrations, webinar solutions, salesforce, etc.
Lastly, do not forget that the solution you choose should be easy for people to use and friendly when used on different devices. Furthermore, just because you have booking software, does not mean people will make bookings. You still need to direct traffic to your booking page with people that are familiar with you and/or your organization.
Good luck booking appointments!