See how you can create interesting and attention-grabbing visuals and images for your business, and attract customers with ease.
As a business or organization, it is important to be able to create content whether that is in the form of blog posts, podcasts, videos, images, social media posts, and other helpful content to engage with your customer base and to reach new customers.
One great free image software you can leverage is Canva to design epic visual content. This guide will show you how to use Canva and popular size dimensions to use depending on the type of content that you are designing images for.
Canva is a free graphic design software that allows anyone to make graphics. The website was founded in 2012 and features a drag and drop interface. The site gives you access to a wide variety of colors, fonts and graphics. Additionally, you can easily upload graphics and integrate them into your designs.
Furthermore, Canva can act as an online storage of your organizations graphic designs and can easily be shared with all your employees or other people that you designate. This can be especially helpful, if you have a remote team of people and allows for easy collaboration. 
How To Sign-Up To Canva?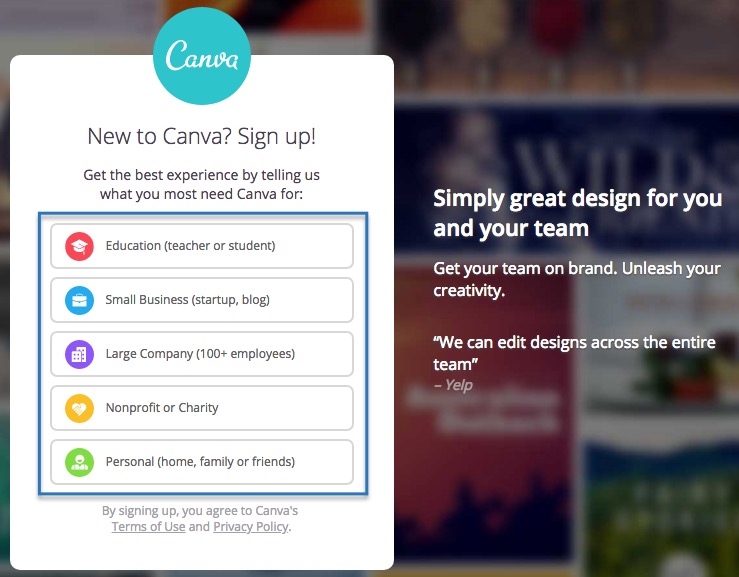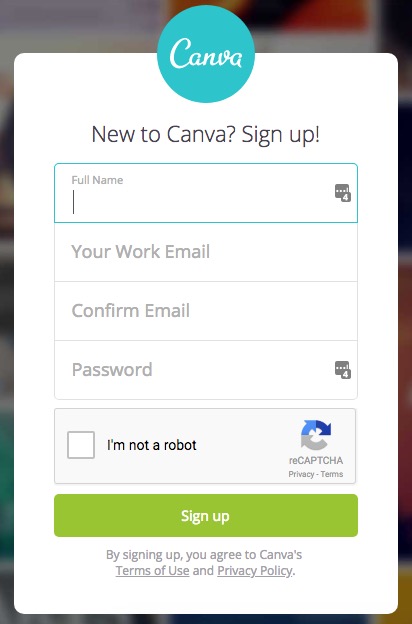 In order to sign-up to Canva, start by going to Canva.com. Once you have reached the site, you can choose from the list of organizations and click on which one is most applicable to you.
Following, you can create an account if you have an existing Google account or you can create an account by entering your email address and relevant information. Once you have successfully created your account, you can start using Canva!
How Much Does It Cost?
Creating a Canva account is free but if you decide that you want some additional features than you can upgrade to a Canva for work account. I would recommend that you start with a basic account and try and make some designs.
Get comfortable with the software and get competent at creating designs. After you play around with the software, you will begin to learn what the limitations are and if upgrading your account gives you or your business any tangible benefits.
If you choose to upgrade your account then Canva has different pricing tiers which they currently offer, most common would be $12.95 per user per month or $9.95 per month if paid 1 year in advance.
Canva Dashboard
After you login, you will be in the Canva dashboard. This is where you can view all your previous designs and create new ones. The top of the page has different dimensions to choose from or you can create you own custom dimension when creating new images.
The dimensions will be sized in either millimeters, inches, or pixels. When creating images for different digital assets, it is important to know the dimensions as they will be different depending on what you are making the image for.
Canva Graphic Design Step By Step
When creating a new image, you need to start by identifying the size of the image depending on where you are going to use it. In this example, we are going to make a cover image for our Facebook business page.
After doing a quick search to find the pixel size for the Facebook cover image, we learn that the dimensions are 820 – 340 pixels. Now that we know the dimensions, we can click on the, "use custom dimensions" button to enter them manually. After clicking the button, enter 820 and 340 and make sure that pixels are selected from the drop-down options.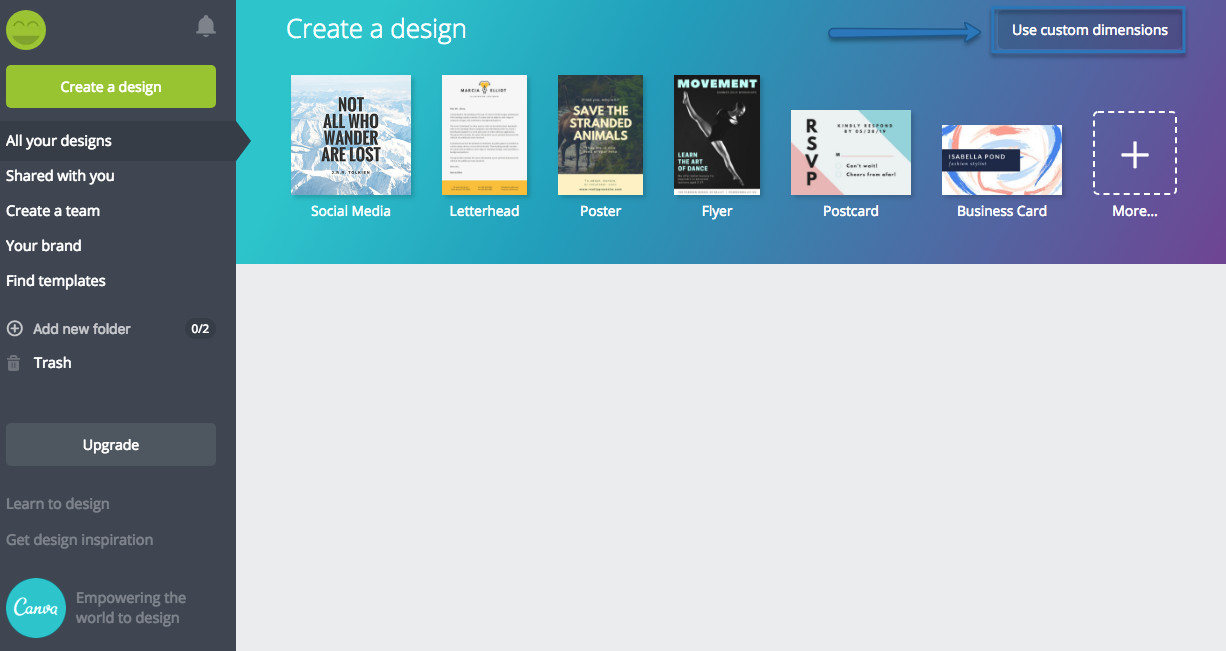 Following, you can use the tabs on the left side to make changes to your image depending on how you would like to design it. This can include the use of colors, designs, text, and/or uploaded images.
Video Tutorial: Facebook Business Page Cover Creation Through Canva
Popular Social Media Image Sizes
Moving forward, once you know the dimensions of the image that you are trying to make, then you can follow the same steps as the video above to make your image based on where you are going to use it. Here are common image dimensions for different social media channels below.
Facebook
Profile Photo: 180 x 180
Cover Page Photo: 828 x 315
Twitter
Profile Photo: 400 x 400
Header Photo: 1500 x 500
Time-line Photo: 506 x 253
Instagram
Profile Picture: 110 x 110
Photos: 1080 x 1080
LinkedIn
Profile Picture: 400 x 400
Profile Banner: 1584: 396
Cover Image: 1536 x 768
Company Logo: 300 x 300
Pinterest
profile photo: 165 x 165
pin sizes: 600 x 900
Google+
Profile Picture: 250 x 250
Cover Image: 1,080 x 608
Shared Image – 497 x 373
Youtube
Channel Profile Image: 800 x 800
Channel Cover Photo: 2,560 x 1,440
Video thumbnail: 1280 x 720
Summed Up
If you have made it this far, then I think you should go ahead and create an account. Canva is free and a great tool to have in your tool kit. Worst case scenario is that you create an account and start using the software but cannot get used to the interface. I can reassure you that you will not be disappointed by this software as it is really helpful and a great graphic design tool.