Find out how to easily find your potential clients on social media and why it's important to connect and engage with them.
We all know that new leads for your business actually and that using a WordPress business website as the central hub of your business's digital presence is sensible, but what about social media?
Where should you be?
What channel is best?
How do you generate ROI?
They're key questions that we're going to answer right here.
First though, make sure you have a customer avatar. This is the profile that outlines exactly who you want to work with because it is going to guide you and influence any decisions you make.
This avatar is really important: it's the foundation on which you choose who to tell your stories to and shape their angles to entice individuals to share their own stories and then take action.
Starting Out
So, taking your avatar in hand think about whether they're B2B or B2C. If it's a little bit of both then you have some decisions to make: choosing which channels you want to concentrate on.
An important point here: we are going to be discussing Western style social media platforms here, so if your potential clients aren't based in North America, Europe, Australasia or another primary English speaking country then it's most probable that these suggestions may not work.
How Many To Choose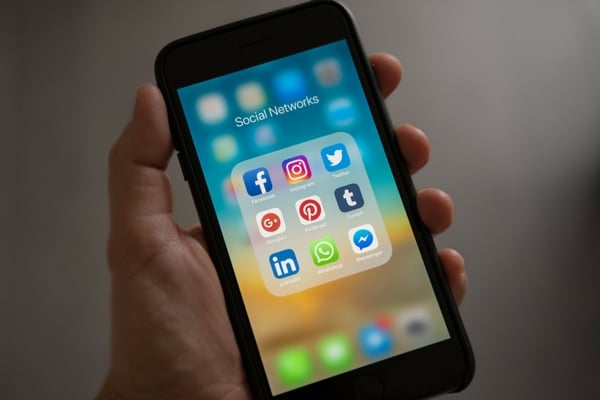 You might be thinking "I should be everywhere! So people see me wherever they go. That'll be awesome!" and you'd be wrong.
Why? Well, it's the age-old tale of spreading yourself too thin. If you decide to go with all of our suggested platforms then you'll have a real busy time trying to keep up with updates.
And then it will happen: you read quite a few times that automation is the key, so you start sending the same message (with the same photo, blurb & hashtag) across all networks. This results in lower reach and  'same-same' message across all networks (that makes some, but little impact).
Best to choose a 1, 2 & 3 approach: choose 3 solid platforms to concentrate on, but remember to secure your brand's name on all of the main social media platforms out there (you never know which one is going to be the next Facebook).
Business to Business
While you are selling as one business to another, never forget that people buy from people they know, like and trust.
That means: keep it as personal and about them as you can. Now, this doesn't mean acting like you're in college and posting crazy photos all over instagram, but it does mean that you shouldn't be being all 'corporate' (aka boring).
I know, I know, lots of big companies do this and they receive a handsome payback, but just keep in mind they're spending a considerable amount more on advertising and marketing than you will be doing. That's where you have the advantage.
Where should you be?
LinkedIn
It's going to be the primary source for leads in your business, but like other platforms that doesn't mean setting up your profile and doing little else.
You're going to want to setup your profile with as much detail as is practical because this acts as your sales page to individuals, but it shouldn't be written as a sales page nor a CV/resume.
You'll want to make it all about how you've helped similar companies in the past (and share case studies if you have them).
Publishing on LinkedIn and join relevant groups: doing this will help when you come to interact with an individual down the line. Also, there are many different ways to optimize your presence on LinkedIn too.
YouTube
A great platform to use and share stories with your subscribers. It can also have a positive impact on your search engine rankings if you put the right strategy in place.
There are many different types of video you can produce: tutorials, guides, demonstrations, seasonal and educational.
The amount of impact you will see will result from the amount of effort that goes into thinking about what you the customer actually wants to see and how engaging your content is.
But, if you've no experience doing video before then don't worry. Basic video recording can be done with your phone and some of the later ones really produce great looking video if your lighting and audio are on point.
Twitter
It's become quite a spamfest over on Twitter of late, but it's still a good way to interact with businesses. There are many different strategies to implement, such as choosing a range of 'targets' and developing a relationship over time through mentions and re-tweets.
But, please, don't do the old school method of attempting to generate thousands of followers through a 'I'll follow you and you follow me' mentality. It might work now, but it'll just add to the bloat in the future.
Facebook
A real powerhouse in social media. Not only because of the great way you can target individuals who own businesses in your industry, but also because lots of groups (aka forums) exist on the site.
The time when you would gleefully try to get as many page likes as you could in order to sell to them is over. Especially seen as Facebook changed their algorithm a while back to show your new posts to a certain percentage of your 'likers'.
You've got a real opportunity to connect with people. However, if you're not a business that does business with smaller companies (below 50 employees) then Facebook might not work so well for you.
Facebook ads are a great way to reach business customers on the platform, but remember to keep your ads in a pattern interrupt mode. Otherwise they'll have little impact and your ROI will plummet.
Others
There are other platforms, such as Instagram and Snapchat, but we haven't tested them much with B2B. It's best to stick to the above few and your your main three to focus on.
Business to Consumer
You're selling to an 'end user' so your marketing message is going to be a little bit different to other people who are selling to businesses.
And it's services, so there is the intangible aspect that you will have to overcome with people. This isn't particularly difficult, but it does require some thought: about their pain, position and emotional connection.
 
Where on social media?
Facebook
There are millions of people out there on Facebook who want to hear about you (no, I'm not pulling your leg), even if you operate a 'local only' service business.
Why? FB has a key aspect to it: referrals.
You'll see loads and loads of people asking in your newsfeed 'Does anyone know someone that does……' and these probably aren't your friends, but friends of friends.
Then there are Facebook groups where you can interact with people and share value, and probably connect with a few individuals. (If you don't manage to then make sure you have a link on your personal profile to your business page as someone might just seek you out if you've been constantly providing great value to people.)
There is your Facebook page where you can share updates, quotes, quizzes and blog posts can help: the different interactions and types of posts can help to engage people in different ways.
Facebook ads: this post concentrates on organic reach with social media, but ads are becoming ever popular especially as Facebook changes the goal posts continuously about newsfeed and business pages and ads being displayed.
And, please don't be one of the goofballs who says 'my customers aren't on Facebook and my Facebook ads don't work' because that's completely wrong. There are billions of people on Facebook across the world, so to say that is just false.
What you actually mean is that your message, approach or strategy hasn't worked the way you intended it to do (lots of small business owners are in the same boat).
Instagram
It's grown in recently years and with the addition of stories it's become quite the platform for young entrepreneurs selling products online (like fashion, apparel and fitness stuff).
A lot of the images and videos are staged, but I guess that's just what the general public like and have gotten used to. There is the 'celebrity' lifestyle type people on there and lots of large brands that generally gravitate to them for promotion (think the likes of the stars on TV doing adverts for large brands and it's kind of the same).
Does that mean you can't 'win'?
No, it's the exact opposite.
It just takes more practice and patience to get things right. And, a lot of trial and error.
Essentially you just need a decent (aka recent) quality phone that takes HD video and quality photos, and to take lots of different types of photos/videos and see what works.
And, yes, it's still a main social media channel if your customer/client avatar is men over 40 because everyone wants to look at nice things. It's the way of the human brain.
YouTube
As with B2B YouTube is still king. You might have the thought that people will be okay with buying from a website or buying form photos of you, your team or the people who are giving you a testimonial, but the fact is that video converts much higher.
If you're using video effectively then you will see your revenue (and ultimately profits) increase.
Now, you don't need to be paying out thousands at the start to get the latest camera equipment or the best local video production crew to come out and produce a video for you. That can come later on when it's going to give you the most bang for your buck.
Video is a great educational tool and one to bring you and your team closer to the client/customer. It helps to build a high level of trust and can educate a user on areas of your business that you can help them with the most.
The main thing to keep in mind with YouTube is to keep the videos entertaining (educational can be entertaining) and to either get someone to edit the videos or learn to do it yourself as you go along.
Authenticity is key here. It's okay if the picture and audio is basic. People will live with that.
Twitter
A little less concentration that the B2B side of things, but Twitter can help you generate a ton of buzz around what you have to offer.
So long as you're generating conversations and joining in on others (as well as showing some love by re-tweeting) then you'll be able to progress.
However, keep in mind that Twitter has been a bit of a funky beast of late and seems to be emulating lots of what other platforms are doing.
Does that mean it's defunct? No, it doesn't.
But, it requires some thought, looking at your customer avatar, and then testing to see if it'll prove a worthwhile investment of your time.
Pinterest
Like instagram Pinterest is heavily visual led, but in a different way.
It's more linked to search engine optimization and being found via the search engines (Google and Bing) than just simply going through from one profile to the next or using the search function on Instagram, for example.
People create boards and essentially "own" that piece on the internet so there's a huge amount of thought needed into the different psychology and mindset when your potential users will be using Pinterest.
Rather than highlighting and sharing interesting things throughout your day like you would on Instagram, Pinterest is more of an active collection type place to "store" things for later use or inspiration.
Where will you go?
Has this made things a little clearer about where to concentrate on for social media for your business?
Which platforms have you decided to choose to use?
Whatever you do decided on make sure you look at social media as a way to share your stories with your customer avatar in an effort to start conversations around your service without it being salesy.
Want help?
Head over to our coaching page and read more about how we can help.